Geder Palliako

Geder Palliako
Race
Firstblood
Gender
Male
Title
1. Nobleman


2. The Baron of Ebbingbaugh
2. The Protector of the Prince
3. Lord Regent of Imperial Antea


Member of
House Palliako
Book(s)
1. The Dragon's Path


2. The King's Blood
3. The Tyrant's Law
4. The Widow's House
5. The Spider's War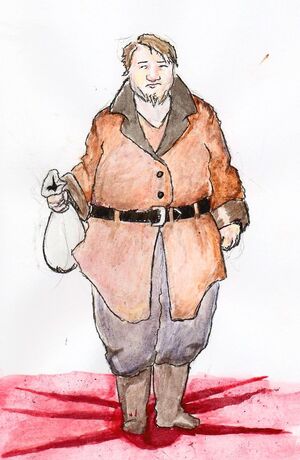 Geder Palliako is a male Firstblood and a nobleman of Antea He is the Heir to his father, Lehrer Palliako, the Viscount of Rivenhalm. He was also recently named as the Baron of Ebbingbaugh and the Protector of the Prince.
Appearance
Edit
Recent Events
Edit
During Geder's first campaign, the Anteans marched south toward Vanai. He served under Alan Klin, who pulled a prank on Geder during the campaign along with several other noblemen. The Anteans then marched south to capture Vanai, intending to arrive before the defenders' reinforcements from Maccia. When they arrived, Geder fought in The Battle of Vanai on the western flank against the mercenaries under Karol Dannien. During the fighting, he got hit in the leg from a crossbow bolt. He collapsed afterward, missing the sacking of the city. Geder remained in Vanai after the city had fallen. He arrested Magister Imaniel and brought him to Alan Klin. He was ordered to lead a force of Timzinae soldiers to find the wealth smuggled out of the city. When he came across the caravan with the stolen wealth, Geder decided not to bring it back to Vanai after realizing that Alan Klin would get all the credit for the recovery. While back in the city, Geder searched for essays on the fall of the Dragon Empire and the Righteous Servant. Soon after, Geder was named the Protector of Vanai when Alan Klin was recalled back to Camnipol. During his reign, a riot broke out in the city over a shortage of winter grain. Geder examined the situation and came to the conclusion that the permanent occupation of Vanai would cost more than it was worth. He ordered the Antean troops to gather outside the walls and lock the citizens inside. Then, Geder ordered the city to be burnt. The ten thousand citizens of Vanai died in smoke and flame.